Celebrate Holi with Happiness | Cool Idea to Save Water
March 4, 2017
Top 4 benefits of using paper cup advertising | New Guide
April 21, 2017
Indian Premier League (IPL) is the biggest event in the cricket calendar. Some would even say it's bigger than ICC World Cup in terms of viewership.
From consumer activation to brand imagery, Indian Premier League offers this all and more to brands who put their money on it.
IPL brand association for Promotion
Today, IPL not only triggers smiles to players, administrators and fans, but is also a property of brands that are looking to seek out. Brands tend to invest heavily in IPL because they are aware that there is no viewer fatigue when it comes to watching IPL matches.
IPL 2017 is expected to bring more this summer.
60 matches, 47 days in multiple venues across India and every brand is geared up to leverage this golden opportunity in every possible way.
With IPL taking over 45 days of Indian television, the question is not whether a brand should or should not be associated with IPL, but rather – How can a brand leverage this IPL 2017 with key markets and a target audience?
Jersey
For brands, IPL players are nothing but walking billboards. In a world where brands are constantly seeking consumer attention, jersey sponsorship has to be a masterstroke. Whether it's Hero Cycles, Gionee, Quikr, Videocon or Huawei, they don't mind investing two to ten crores on the jersey depending on the placement. The interesting part of the whole game is that even a player's helmet is adorned with brand names. Advertising on a player's helmet is worth 5 crores because brand owners know that their brand becomes a part of 'the action'. Logos on jerseys are constantly viewed thereby becoming a part of the subconscious mind of the viewer/consumer, thus leading to higher brand recall.
For instance, Nokia was the principal sponsor for Kolkata Knight Riders in 2008, but in 2015 Gionee clinched KKR sponsorship for 54 crores. Gionee has been smart because they want to give viewers the impression that their mobile phones are at par with Nokia and they wanted to be associated with a winning team and its superstar owner, Shahrukh Khan.
TV Ads
The TV ad spots during IPL are usually taken up by big brands with big bucks. Brands like VIVO, Housing.com and LYF used TV ads as a platform to launch their maiden television commercials last year. However, even smartphone brands like Gionee and Micromax have revealed their new identity through new TVCs. The FMCG sector too is not hesitant about spending in TV ad spots despite the hike in the ad rates.
Radio
Radio's biggest strength is the localisation it offers to brands. It has the power to tweak the content to match the mood and expectation of the listeners of a particular place. Vodafone's Hakke Bakke anthem became a rage during IPL 9. Radio companies also work closely with brands during IPL. They make content for them, change the name of the station during the promo period or even get RJs to endorse the brands. Not as a commercial message, but as a conversation, radio has the power to engage with the listeners.
Hoardings/Billboards
Brands get tremendous attention inside the stadium during IPL matches. However, they are still looking for attention outside the ground as well. They use hoardings to tell a city story to commuters. The IPL spend on hoardings for each brand varies between 25-50 lakhs for 15-30 properties. This year, watch out for Maruti Suzuki and VIVO.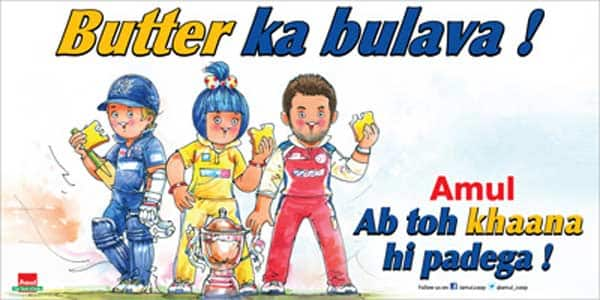 Paper Cups inside colleges and companies
Brands are increasingly looking for ways to get more value for their money with IPL brand associations. Every marketer has just one dream, which is to target the age-group of 19-35 year olds. People belonging to these age-groups spend most of their time either at college or office. Paper cup marketing has emerged as an effective medium to reach out to a particular target group. The investment associated with such type of advertising is limited, but the ROI is ascertained.
To quote an example, www.gingercup.com, a marketing agency executed one such marketing campaign for Hotstar. The same agency worked for Delhi Dynamos team in ISL 2016 for massive football fan reach out in Delhi NCR region inside colleges and corporates.
Social Media
Television and radio are still efficient mediums to reach out maximum people, but with the increasing social media usage and digital exposure, brands have started taking leverage of the digital audience. They have started using IPL as a content mix for their advertising channels. A lot of content is shared these days on social media platforms such as Facebook and Twitter. Brands interact with their target audience via contests, posts, videos, live images, and many more things. Several brands such as Vodafone, YesBank, Kent RO Systems and Tata Docomo have leveraged on IPL as a significant element of their social media strategy.
Blogs
Brands are using digital media's story telling abilities to advertise themselves during IPL. They are trying to create and image of a more personal and reachable entity. FMCG brands particularly are resorting to blogging to advertise their association with IPL. To cash in on a viral factor, brands are addressing consumers directly by using bloggers and influencers.
Brands that sponsor IPL teams make use of a perfect mix of various mediums/channels to market their brand association with IPL.