Transit media branding is a more prominent medium of advertising today. Let us first answer the question of value, what is transit media branding? Transit media branding is a form of outdoor advertising wherein advertisements are put around the body of the vehicle. It is mobile advertising and is one of the most popular forms of OOH or Out-of-Home advertising in India.
What is outdoor and transit media branding?
Outdoor media is a form of media advertising which takes place outside the homes of people. That is, it is displayed in the form of billboards at flyovers, kiosks, digital billboards, hoardings, and signals near the road at the pedestrian path, the outdoors to be viewed by a mass population.
On the other hand, transit media branding also advertises outside, but it places advertisements on vehicles or transits which is why it is called transit media advertising. It is one of the prevalent ways of advertising for brands today.
Outdoor advertising differs from transit media advertising
1. Billboard Advertising
It is found that around 83% of people do remember the OOH advertisements they view 30 mins before shopping. Billboard advertising is on a rise. We view it as constantly evolving and changing advertising. In a highly digital world, hoarding advertising is done to provide a more realistic, immersive, and engaging brand experience to consumers. Billboard advertisements are stationary whereas transit advertisements like bus ads, auto rickshaw ads, or metro ads are non-stationary.
2. Street furniture
Street furniture is another popular form of OOH advertising that targets public-use furniture. For example, covering the sides of benches or a telephone booth. It is located in proximity to places where the brand's target audience is present and gives customers an eye-level marketing experience. Street furniture advertising which is a form of guerilla marketing is restricted to specific places or residences. Whereas, transit ads are constantly moving in and around the city, traveling to the deepest corners of it.
3. DOOH Advertising
Looking at the emergence of digitalization in India, digital billboards are slowly making space for themselves in the Indian OOH industry and are allowing space for advertising that is even more striking and offers more space for innovation and creativity to brands. DOOH billboards have instilled customer engagement and interactivity over time. They display real-life graphics in simple yet super-engaging ways that connect with the human emotions of the average consumer. DOOH ads can be dynamic and can even be placed on transit vehicles. However, the majority of DOOH ads in India currently are non-transit ads and mainly cater to billboards, kiosks, or digital online ads.
Explore more outdoor advertising options you can invest in today
Types of transit media branding
1. Auto branding
Auto branding is a transit media branding done on auto-rickshaws. The brand is covered in the form of a printed flex around the auto-rickshaw. Auto branding advertisements are also called auto-hood advertisements. An average auto rickshaw in India runs 150 km and records more than 10,000 impressions a day making it one of the ideal choices of advertising for emerging brands and businesses. Vehicle advertising is shown to boost your brand name by 15 times as compared to other OOH advertising media
2. Metro branding
Metro and train advertising is a public transit branding method that involves advertising that is done in and outside metros or onto metro station assets. Metro station branding, metro full-wrap branding, and inside metro branding are great ways to target a more urbanized population. Commuters who regularly travel in metros and even trains for commutation purposes, tend to notice the vehicle's outside branding wrapping. Be it while waiting at the platform or while looking around, metro and train branding is an effective way to catch your target audience's attention and build a strong top-of-the-mind brand recall.
Metro branding is one of the forms of transit media advertising. If you wish to target even more commuters or corporate, working crowds, you can consider station branding as well. 
3. Bus branding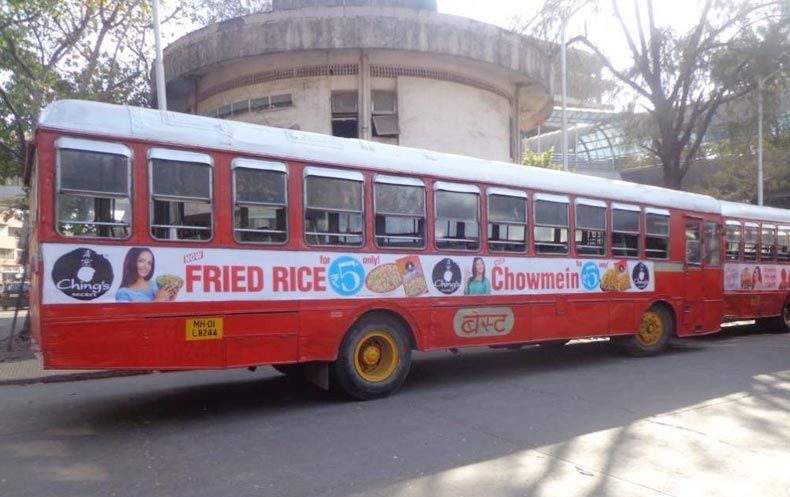 Bus branding is another kind of advertising wherein private and public buses aid in promoting the brand throughout the city or country. Bus branding is done through branded bus posters, bus wraps, backlit panel advertisements, advertising on bus sides, and bus seats. Also, a digital screen could be fitted inside the bus to engage even more consumers. An average urban bus travels around 150 to 300 kilometers per day covering 50K to 60K miles a year. The advertising mileage buses have proven to give is one of the main reasons why you will mostly see large-sized brands such as LIC, HDFC, Sony TV, or even top FMCG companies like Nestle, Hindustan Unilever doing regular bus branding campaigns to reach their target market. 
4. Cab branding
Cab branding is a way of advertising your brand through cabs such as Uber or OLA or taxis. Cabs can act as mobile billboards, helping you target a more corporate audience. Cab branding is done by wrapping a poster or flex at the back, side panels, front or whole body of the cab. It increases brand visibility and helps in creating a better and stronger brand identity. Cab advertisements such as Uber or OLA ads are relatively less costly as compared to other transit media branding options such as metro branding or train advertising.
Advantages or benefits of Transit Media Branding
1.  Transit media branding has a geographical plus point
Transit advertising is a wiser and smarter choice when it comes to local branding. Brands can make  more out of their marketing budget by doing local branding to reach their target market. 
 They can select the market portion they desire to target and then place their ads on buses or trains in that specific region. Transit advertising is one of the highly classified mediums of advertising which is powerful for targeting the local consumer of a region. When a business decides to place transit advertisements in a select location, it is actively reaching out to people of a select demographic characteristic and background. For instance, a local restaurant advertises special offers on a bus stand that the customers often visit to reach that locality. This would help them be aware of the offers and products the place offers. This would in turn increase the customer footfall. 
2. 
Transit media branding
is cost-effective
Transit media advertising is like a large blanket spreading over a larger proportion of potential customers. It allows greater customer activation and acquisition at a lower cost. Therefore, transit media branding is one of the highly chosen methods of advertising for brands and businesses of all sizes. Unlike billboard advertising, you don't need lakhs of rupees of budget to get started. 
3. Provides you with long brand exposure time
While traveling in a bus or a plane, it is observed that people spend time noticing the brand around. For example, if you are on a seven hours flight and you see a brand wrap on the front seat, then you are likely to give it your attention both consciously and subconsciously. This is how it works. Even if it is a bus stand or a metro ride that displays your brand and that people use every day for traveling to work or other commutes, it aids in granting a longer exposure period. This would in turn make people refer to and choose your brand the next time they go shopping. Train advertising with full wraps is highly beneficial for brands. People following the same path would get your brand inside their minds without any effort, simply because it is displayed every day.
4. The coverage area is large in transit outdoor branding
Be it a bus or a cab, it is used by people for traveling almost all the time of the year. So when they enter or travel different streets or follow a particular route each day, so does your brand and that helps build a strong mind recall among your target audience. Transit media advertising facilitates effective brand activation through vehicles. For example, a bus with full wraps would display the brand in large size making it almost impossible to unsee for your target customers. Also, transit vehicles in India travel an average of 40 to 60 KM a day giving thousands of impressions. Transit media branding can help you spread your brand  across a large geographical horizon repeatedly to build a good brand recall
Disadvantages or Cons of Transit media branding
1. Transit media branding depends on the public's state of mind
We are humans and thus a collection of emotions. It is quite possible that at one point, an individual may not be in the mood to reflect upon and look around an advertisement. For example, a person sits on the bus and goes on to read a novel or take a nap. In this case, the purpose of transit media could remain quite defeated.
2. Routes may change overtime
A mode of public transport may not always take one way. According to the needs of the current times, the path of public transport is likely to change. During this time, it may not be able to cover a particular segment of the population.
3. Limitation on the creative front
Transit media cannot be highly customized and that is a disadvantage if we look the other way around. It is quite possible that at times the people who view the transit media advertising may not have a certain perception, need, or behavior of purchasing the particular product. For example, if a sports products ad is displayed to old-aged people, then they would never have the lifestyle of playing a sport actively at the age of 80. This is where there lies a boundary. 
Conclusion
From the above key points, we can infer that while transit media advertising brings with it certain disadvantages, it is still quite effective in the long run. And today, various brands as discussed above are taking the help of transit media advertising to make their brand known to both local and non-local audiences. Transit media is not restricted to reaching one segment of the population but spreads the message throughout. Also, the cost involved is less compared to other advertising methods. Transit media acts as a moving brand billboard and it cannot be switched just like a television ad or even a digital online ad. It is seamless and offers brand visibility and brand activation in many ways!
Ginger Media Group is an established marketing agency that has done offline marketing for giant companies like OYO, Uber, Gillette, Unilet, & a lot more
Our agency focuses on a 360 degrees marketing approach that is customized to fit the requirements of our customers.
Checkout our transit media branding services
CONTACT
If you want to run an effective transit media campaign for your brand
Then contact us at,
+91 990 247 8800 or email at – contact@gingermediagroup.com