What Is Transit Advertising? Everything you need to know
February 6, 2022
3 New Ways For Expanding Your Dental Practice In India
February 12, 2022
Mumbai is called the city of dreams for a reason. You will find people from all over the country in the city and you will find a range of cultures, and languages, with people from different backgrounds.
From people who came to the city with no money and who are now billionaires to Bollywood celebrities to your local vegetable vendor, to the kid in college who moved from a village to study.
So marketers are always looking for a place to promote their products in the city of dreams. You will find a high density of people almost everywhere in Mumbai, but there are a few places where you will find a key demographic.
Having a knowledge of these places, and the kinds of people it attracts and why, is important to know, so you can frame your brand messaging in such a way that appeals to the public eye.
In this blog, we will talk about some key demographics, and where you can find them in Mumbai.
5 Best Places to Advertise Your Brand in Mumbai
The purpose of the blog is to help you understand what kind of demographics visit a particular place. This understanding will help you tweak your ads in a way that will appeal to them, hence, making your advertising and brand messaging more effective.
1. Best places in Mumbai to target college kids
It is no rocket science that you will find college kids near their college – colleges like St. Xaveris, VJTI, Wilsons, HR, KC, and IIT-B are sought after by students in the entire country. But if you think closely, you will realize that college kids bunk lectures.
And where do they go? Most often than not, they are seen at the tapri (tea stall) outside their campus. College kids don't have much money, and all they want to do is just sit and have a good time. The tapri seems like the perfect spot. And every college has "the" tapri where students meet.
This is the perfect opportunity for marketers. Tactics like paper cup branding are most useful in this setting. The audience is at ease and drinking tea from a cup that is promoting your brand. A simple QR code or a short tagline can spark conversations! If you offer a discount, you will find that most of the codes on cups will be used, (free stuff and college kids go hand in hand) to get your brand new customers.
2. Best places in Mumbai to target people who play a sport or are health conscious
You will find that in a crowded city like Mumbai, there are open spaces that attract fitness and sports enthusiasts alike. Places like Marine Drive, Carder Road, and Worli Sea Face attract runners, and grounds like the Oval Maida, and Shivaji Park have tons of space where team sports are held.
This provides the perfect opportunity for brands who would want their key demographic to be health-conscious people or sports lovers. The bus stop at Carter Road or Marine Drive, Billboards over Worli sea face provides ample space to advertise your product or services.
The advertisement can just be about your brand or can be about some discounts or deals that are being offered on the brand.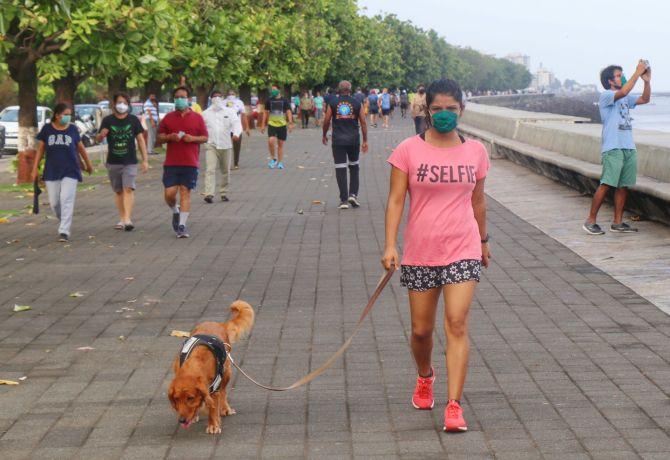 3. Best places in Mumbai to target people who love to shop
There are places with malls right from the Mumbai suburbs to the south of Mumbai. From malls in Goregaon like Oberoi, Infinity, and Inorbit to malls in Lower Parel like Palladium that offer more luxury brands like Gucci and Dior.
Most of these malls are along the highway, and their walls always have billboards that advertise products. Of course, products that are available in the malls are advertised. But, for the billboards that face the highway, the options are not limited.
LED billboards are also available here that are usually very successful at commanding attention
4. Best places in Mumbai to target corporate workers
You must have heard about the infamous Mumbai traffic. This traffic is the reason why Mumbaikars prefer travelling via local trains and metros.
This gives the perfect opportunity for the brands to advertise. Whether it is a small billboard near the ticket window, stickers on trains, or OOH ads in metros.
These days, Mumbai locals have also been providing audio advertisements. While people are sitting on the train, they listen to these ads played on the speaker. You can fix the number of times the audio is played among other things.
All railway and metro stations are hubs with a high footfall of corporate workers on the weekdays, and people travelling for pleasure on the weekends.
5. Best places in Mumbai to target tourists
Mumbai has attracted tourists from all over the world. The famous Irani Cafes to the food stalls to the museums and the Elephanta Caves. Not to forget the major nightlife in the city and the food stalls open in the wee hours of the night.
Brands can make use of this demographic available to promote. A hotel discount, or a souvenir for their friends and family, or just a small eatery with amazing food. Tourists are looking to have every experience they can.
The urbanized city, the city that never sleeps, the city of dreams – Mumbai, has it all. As much as the city is tough and punishing, it is also soft and takes care of its citizens in ways you cannot comprehend. And advertising in the right place at the right time may be the key to your brand reaching a new level.
Looking for a branding, or a marketing agency to advertise in Mumbai? Contact Ginger Media Group at +91 990 247 8800