5 Not So Common Ways Retail Store Can Increase Walk-ins
December 28, 2021
7 New Examples of Innovative Billboard Ads You Shouldn't Miss
January 12, 2022
If you're a brand that sells consumer-related products then you know the importance of local marketing. While online marketing may help you to reach your ideal consumers online, offline marketing like auto rickshaw branding helps you in establishing strong brand awareness and reaching consumers that can't be reached via online marketing.
Auto rickshaw branding is a great way to reach untapped markets and spread brand awareness within the target city.
Before we begin, let's clear out some basics.
What is Auto Rickshaw Branding?
Auto branding is a form of transit media advertising that is done on auto-rickshaws by pasting flex posters of a brand at side hoods or complete vehicles, to promote the brand.
The auto branding advertisements are run for a variety of purposes. From increasing brand awareness, and promoting an upcoming sale to building loyalty among the target audience.
Auto rickshaw advertising is a great way for brands to reach every nook and corner of the city.
How To Do Auto Rickshaw Branding?
All that is required is a short, crisp ad copy, a good design, and clear flex stitching on the auto. You can get the sheet pasted by vinyl on the sides of auto-rickshaws.
With the right inputs and an efficient branding approach, you can make your marketing innovative and creative.
Depending upon the area or city you're looking to advertise in, you can choose a print media agency to print your posters.
However, if you want to advertise on a vast number of auto rickshaws then doing the print yourself, advertising it yourself, finding the right autos for branding yourself can be tough and highly time-consuming.
.
Dial +91 990 247 8800 or email us at contact@gingermediagroup.com to do auto branding with us and let us take care of the hard work to help you focus on other important things.
We specialize in offline marketing and have worked with brands like J.K. Super Cement, Big Bazaar, and DishTV
.
Let's have a pointwise analysis to know the benefits of auto branding:
Benefits of Auto Advertising and How It Helps Brands Grow Their Business?
Auto branding is one of the most popular forms of branding in India. You will often find branded autos on the street and since these autos travel everywhere from the crowdest lane to highways and societies, auto branding proves to be a great brand promotion idea.
Several large companies like KFC, Saffola, and J.K Super Cement have invested in auto branding to tap into the Indian market and get more brand awareness.
There are several benefits of auto branding. They are as follows:
Auto branding helps you reach untapped markets and potential
Works for all businesses across different industries
A cost-effective way to market your brand
Auto branding easily attracts people's attention
Durable and long-lasting
1. Auto rickshaw advertising helps you reach untapped markets
With transit media advertising like auto branding, there is no limit to how far into the city your brand can travel. Transportation like auto-rickshaws get to the small lanes or even on roads that are not paved well. This helps people living in these localities to get to know about your brand that they otherwise may not have.
Auto branding helps your brand tap untapped markets and because of the size of the advertisement, it makes it easy to get the audience's attention.
This is a highly beneficial form of outdoor advertising that can be used as a brand promotion strategy.
2. Works for all businesses across different industries
Whether you're an established brand, a small business that has recently begun or a large startup like Food Panda or a mega-corporation like Big Bazaar, transit media advertising can work for you.
Businesses like educational institutes, consumer-related brands, health-based brands, retail brands, real estate, dental clinics, and electronics brands, all can benefit from using auto branding.
Advertising on auto-rickshaws enhances visibility to a large extent. At the same time, the visibility is for the long term. The vehicle displaying your brand advertisement creates a sense of trust and familiarity among your target audience.
Transit media advertising gives your brand advertisement extra time to be seen by your target audience during the traffic hours in metropolitan cities and also during the traffic signals which happen to occur every few kilometers.
People have no choice but to notice their surroundings when they're stuck in traffic.
3. A cost-effective way to market your brand
Advertising on auto-rickshaws is extremely cost-effective given the return on investment you can make upon it.
A single auto alone travels several kilometers in a day helping your brand to get seen for a longer time and by more and more people. Even covering the whole auto with a promotional flex is not too costly. Auto branding is cheaper than billboard marketing or guerilla marketing.
In auto advertisements, there are several options for you to choose from such as back panel advertising, small back panel advertising, meter branding or auto inside branding, and full auto branding.
4. Auto rickshaw branding easily attract people's attention
While the online space is getting more and more competitive, auto advertising helps you cut through the clutter and showcase your products and services to your target audience. The design and ad space of the auto make it easy for viewers to spot it from any direction.
For example in a full branded auto, a consumer can view your back panel advertising from the back.
Example of auto rickshaw back panel advertising
Example of inside the auto branding – Auto rickshaw meter branding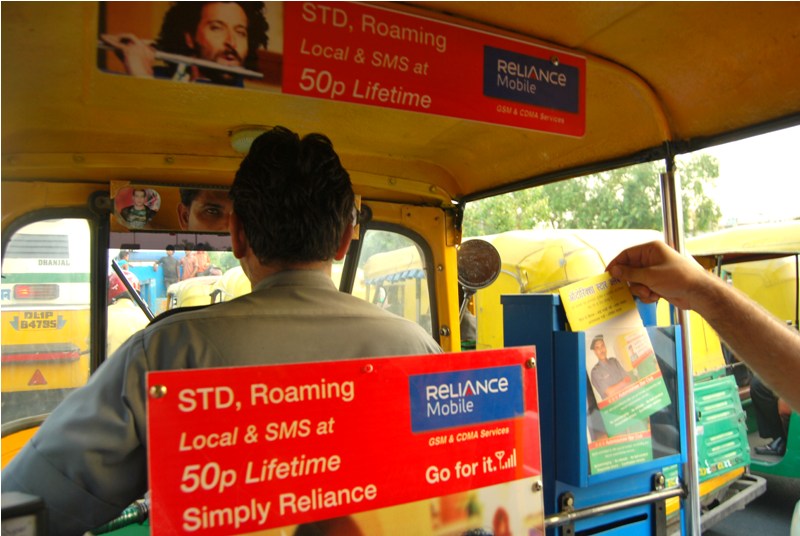 Brand exposure from the top and sides – Example of auto top and side panel branding
When people are stuck in traffic for hours, auto branding allows the brand advertisement to get more exposure among its target audience. This way the marketing strategy offers a tactical and innovative aspect to businesses. It helps in catching people's attention every few kilometers.
5. Durable and long-lasting
Auto branding benefits both the advertiser and the auto-rickshaw driver or owner.
For the auto-rickshaw owner, auto branding posters help in protecting the vehicle from everyday scratches thus offering durability.
Unlike posters that are stuck on the side walls of roads or on a pole, auto branding advertisements are less likely to be torn or become filthy as the owners make sure their vehicle is clean given it's their bread and butter.
And for the advertiser, it helps in spreading a consistent brand advertisement to a large group of people. Also, it can be altered at very short notice to update the brand information.
This helps the brand advertisement to stay looking fresh and clear.
So this was all about what auto branding is, its benefits, and how it helps brands in their brand promotion.
Check out some more transit media advertising ideas.