No Parking Board Advertising in Pune
The No Parking sign advertisement in Pune is done by placing signs on community gates. Advertisements on No Parking boards in Pune generate people's interest and help your brand stick in their minds on a conscious and subconscious level. No Parking Branding is a great approach to promoting your brand in Pune. Advertisers simply hang temporary No Parking signs that may be readily removed from the walls and gates in this circumstance. 
"No Parking board advertising" refers to advertising your brand/industry through No Parking boards that are probably posted in front of the gates to your colony or society, as well as on bungalow gates and other structures. 
Advertisements on the No Parking Board are seen not just by the building's occupants but also by onlookers and those walking by. This aids in arousing viewers' curiosity so that your brand remains in their minds.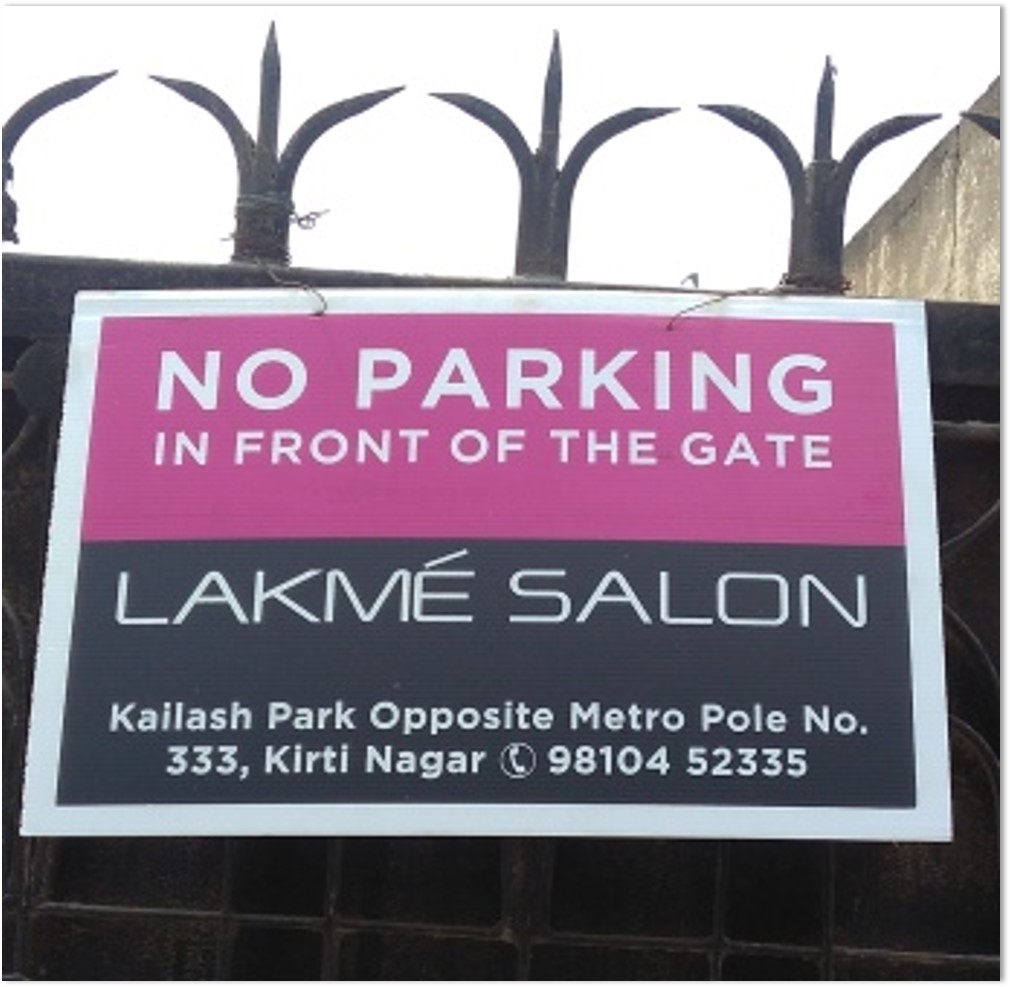 What you can do
Applications of No Parking Advertising
No-parking board advertising is a highly cost-effective way to get your brand out there in front of your audience in a targeted way. Here are some of the benefits of No-parking board advertising:
Want to use No Parking Boards for brand promotions?
Available Options
No Parking Board Options Available in Pune
No parking advertising boards in India can be customized in different sizes, types, and shapes as per the required needs. Some of the types of no-parking boards we provide are: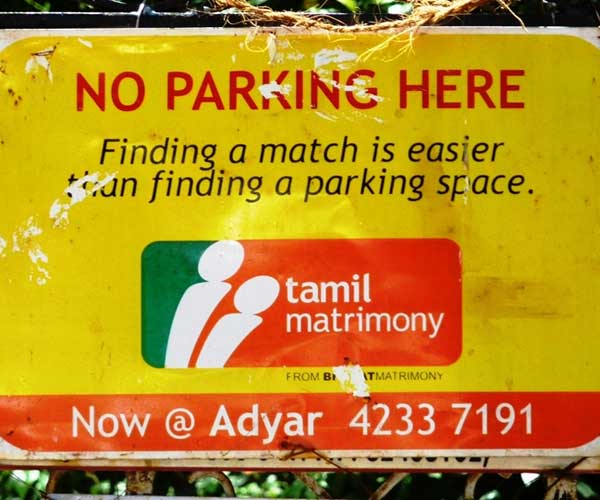 Metal Sheet Boards
Metal or tin sheet no parking boards are usually made from materials like tin, aluminium, or stainless steel. These advertising boards are commonly used by advertisers to run extensive campaigns as these metal or tin sheet no parking advertising boards are thick, stronger, and hence last longer surviving harsh weather conditions. These no-parking boards come in different sizes such as 12 " x 18 ", 15 " x 15 ", 12 " x 12 "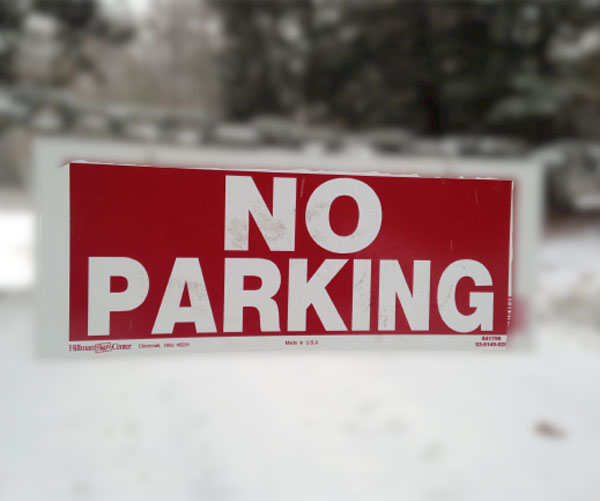 Sunpack Sheet Boards
Sunpack sheets are another commonly used form of no-parking advertising board. These sheets aren't as thick as metal or tin sheet no-parking boards. However, they cost a bit less and are strong enough to last for a year or two. These no-parking boards are made from materials like PVC, and carton boxes depending on your needs. Sunpack sheet no parking boards are a popular choice among brands due to their cost-effectiveness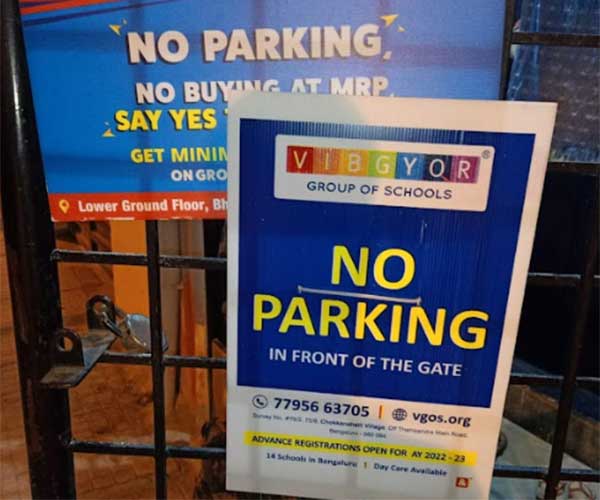 Prismatic Sheet Boards
Prismatic sheet no-parking boards are one of the best choices as they provide an all-in-one solution to brands looking to do no-parking advertising. These boards are cost-effective, are more vibrant than Sunpack sheets, and are also durable having been made from the strong material of Polycarbonate. Prismatic sheet no-parking boards are also called reflective sheets no-parking boards due to their high colour vibrancy and reflective nature.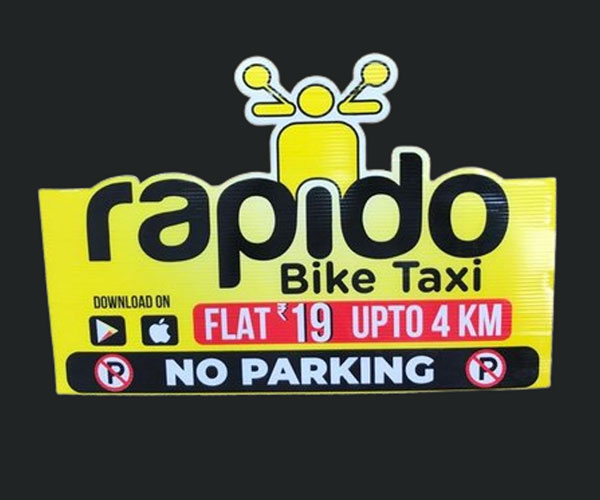 Cut-Out Boards
No-parking cut-out boards are a fool-proof way to catch your target audience's attention. The unique design makes these kinds of boards instantly stand out and grab people's attention. These cut-out no-parking boards also can be customized in different sizes and shapes as per your needs. These are often made from PVC material, polycarbonate, or Sunpack sheets. If you're looking to do no-parking advertising, these can be a great choice.
Places to Advertise
Popular places for doing No Parking Board Advertising in Pune
You can advertise through No Parking signs to support your brand's visual identity and try to get their attention. It aids in getting the word out about your company to the audience. Some of these places are listed below:
Want to use No Parking Boards for brand promotions?
Target a specific audience
How to pick a location for No Parking Board Advertising in Pune?
No Parking Advertising Boards are among the most popular methods of reaching audiences in Pune because of the dense population and fewer parking spaces as compared to the number of daily used vehicles.
These are the places with a high concentration of No Parking zones and heavy vehicle and pedestrian traffic. Depending on the target market no parking advertising locations can be chosen from the following locations:
Kalas
Kalewadi
Kalyani Nagar
 Kamshet
Ambegaon
Pimpri.
Why Choose Us
Why Choose Ginger Media Group for No Parking Board Advertising in Pune?
When you choose to work with us, you work with an agency that acts as more of your business partner. We take time to understand your business, your target audience, your products and services, your business goals, and your budget and accordingly craft a marketing plan that is tailored just for you. Having worked across industries like FMCG, Education, Real Estate, Consumer durables, Medical, Gaming, Fashion and Apparel, Beauty, and IT, we have just the right amount of experience to help you run a successful marketing campaign. We are a 360° outdoor ad agency and branding agency that provides a huge variety of outdoor advertising services. We have helped more than 150 brands PAN India level and we can't wait to help you and your business grow.
We have a robust distribution and promoter network and strong tie-ups that can help you do branding in India with ease. We take pride in the work we do and we do it with strong ethics.
Some reasons why you must consider advertising for your brand or business.
✔ You will be guaranteed an audience when it comes to no parking board advertising.
✔ The location of your ad makes it hard to ignore.
✔ Capture attention and put the spotlight on your message.
✔ 71% of consumers often look at vehicles with catchy creatives, thus proving advertising's effectiveness.
✔ Present an ad to a maximum number of people without exerting too much effort.
✔ The advantage of no parking board advertising is its constant availability.
We are trusted by some of the giant businesses such as Zomato, OYO, Chumbak, Unilever, Hotstar and a lot more. When you advertise with us, you advertise with an agency that works as your business partner.
Your business goals become our goals.

Ginger Media Group is a 360 degrees marketing agency that specialises in outdoor advertising. With our 7+ years of experience, our team of branding specialists, marketing enthusiasts and data-driven advertisers, we have had the pleasure to serve some of the most well-known brands such as VIBGYOR, OYO, Zomato, Uber Moto, Uber Eats, Chumbak & a lot more.
Frequently Asked Questions
1What is the minimum campaign duration for No Parking Branding in Pune?
The minimum campaign duration for No Parking Branding in Pune should be 30 days because average advertising placed on the No Parking Board will not be able to exert much influence on the audiences in less than 30 days.
However, you can also put your Parking Boards for an indefinite time because their life is more than any other kind of offline advertising. They do not require much space to be placed and they are mounted temporarily so that they can be removed at any time. But still, we have to take separate permission from a property owner & local authority and if required, we also have to complete some paperwork regarding this.
2How is the No Parking Branding campaign monitored in Hyderabad?
Monitoring the No Parking Branding Campaign in Hyderabad helps measure the live performance of the campaign, you will get a real-time response, which will help you and us to plan better for next time. There are so many ways to monitor a No Parking Branding campaign in Hyderabad. We can share No Parking Branding images along with No Parking Board details with you like their shape, size, location, etc. through E-mail, WhatsApp, Facebook, Instagram, etc. And if required we can also share the same with any other Social Media Platform.
E-Mail: You can monitor your No Parking Branding Campaign through E-mail by asking for images and details related to No Parking Branding directly to No Parking Branding Agency.
WhatsApp: WhatsApp is very much helpful in monitoring the No Parking Branding Campaign because it allows the No Parking Branding Agency to send live locations to you.
Facebook: You can also monitor the No Parking Branding campaign through Facebook. We can share the images and videos of your No Parking Branding Campaign through Facebook.
Instagram: Instagram helps monitor the insights of your Advertisement. It is also helpful in detecting the related content to your Advertisement, No Parking Branding Agency, and its work in the form of stories, hashtags, articles, and posts.
3Where No Parking Branding can be executed in Pune?
No Parking Branding in Pune can be executed at many places such as Kalas, Kalewadi, Kalyani Nagar, Kamshet, Ambegaon, TCS office, Tech Mahindra Office, Pimpri, etc. Locations for No Parking Advertising within Pune can be decided depending upon the target audience of the brand and brand objective.
Since Pune is known as the Oxford of the East with the presence of a wide range of educational institutions and the 8th most populous city in India with a population of 7.4 million, it is an ideal place for doing No Parking Branding because Pune has a huge population of major offices, educational institutions, residential societies, and public places. These are those areas where the population of No Parking zones, and vehicular and pedestrian traffic is very high. It is no hidden fact that the number of parking spaces available in Pune is significantly less compared to the number of vehicles commuting in the city every day which makes No Parking Advertising boards one of the most common ways to reach audiences because of its population.
4What are the various types of Branding opportunities available which can be done with No Parking Branding in Pune?
Along with No Parking Branding, various types of Branding opportunities available in Pune are Bus Shelter Branding, Bus Branding, Look walkers, Malls/cinemas, Plate Branding, Bench branding, Billboard Branding, Corporate Branding, Cup Branding, etc.
Our out-of-box thinking and hands-on approach will get you the exact delivery of exactly what you wanted and always go the extra mile.
5How can I put my Brand on No Parking Boards in Pune?
First, you will have to contact an agency that can do No Parking Branding successfully or who has a successful track record in No parking Branding and has previous experience with some good brands.
Like you choose The Ginger Media Group for this because they have a successful track record and they have worked on 175+ projects in all of India. Apart from this, they have a good reputation in the field of branding. Then you will have to contact them and give them all the information related to your brand (such as brand name, brand logo, contact details, and other information which you wanted to include in an advertisement) which will be applied to the No Parking Board. Since there is no certain concrete policy implemented regarding No Parking Sign Boards by Pune Municipal Corporation in Pune. So, it is one of the grey markets semi-regulated by the local authority which means it hardly causes any serious issues. Advertising on No Parking Boards in Pune is being carried out for advertisers for a very long time. There is no absolute clarity regarding rules and regulations for the same. Also, ads are only placed after taking permission from the respective house or apartment owner. The Ginger Media Group will take care of all permissions regarding the installation of No Parking Boards in Pune.
6What is the size and design of No Parking Branding in Pune?
No Parking Branding in Pune can be available in different types of shapes and sizes according to the needs of advertisers and advertisement but their main or most common sizes can be categorized into 3 types, i. e. Small-size (1 ft. W x 1.5 ft. H), Medium-size (2 ft. W x 2.5 ft. H), and Large-size (3 ft. W X2 ft. H). Size can be varied according to the different kinds of customizations placed on No Parking Boards and personally customized No Parking boards also have types of shapes and sizes.
Some things should always be kept in your mind while designing a No Parking Board like are board's exact dimensions, what is the font used on the board, what is the colour combinations used on the board. All these things can affect the printing of advertisements which you wanted to place on a board. You can put a brand logo and brand message on an advertisement but make sure No Parking would be in bold letters and can be easily from far away.
7What are the required characteristics of No Parking signboards?
No Parking Boards are the signboards that you must have seen installed on the front of your colony or society gates, on gates of bungalows, poles, etc. Most importantly their aim is to reserve the parking for the residential house owner's vehicle when the owner returns home.
Certain required characteristics of No Parking Signboards such as The No Parking signboards must be printed on a material called 'Coagulated flute board' which gives rigidity and lightness to the board. The boards must be digitally printed which ensures that the image is crisp, clear, and extremely vibrant. The print should be laminated which makes our board resistant to rain and scratches. No Parking Boards must be positioned at eye level, these ads are easily noticed by audiences.
8What is the cost of No Parking Advertising in Pune?
No Parking Advertising is a cost-effective way of Advertising by which we can promote any brand effectively. Cost depends on the location of No Parking Sign Boards and the type of No Parking Board Advertising used. It also depends on the number of months the No Parking Board Advertising Campaign is programmed. In Pune, the cost of non-digital No Parking Branding ranges from Rs. 10/- per day to Rs. 50/- per piece and the cost of digital No Parking Branding ranges from Rs. 150/- per day to Rs. 350/- per piece.
For more details Say Hello to 1800 208 3859 or reach Our Inbox at contact@gingermediagroup.com.
9What are the options available for brand advertisement as a No Parking Branding Agency in Pune?
There are many options available for brand advertisement as a No Parking Branding Agency in Pune such as Metal or Tin sheet Boards, Sunpack Boards, Prismatic Boards, Reflective Boards, and LED signages, etc.
Metal or Tin Sheets: Tin Sheet is the traditional choice among advertisers for No Parking Board Advertising. These are strong, thick, and weatherproof. It allows good-quality printing of any advertisement creative type. They have a life of more than 6 months and can be placed for an indefinite time if not removed manually.
Sunpack Sheets: These are also known as plastic corrugated sheets and can offer 1,2,3 or multi-colour screen printing on these sheets. Sunpack sheets come in different colours thereby giving more choice to the end-user to select the appropriate background colour.
Prismatic Sheets: These sheets are weather-resistant, durable, and with higher luminescence. These are UV-protected sheets that make the advertisement visible from a long distance.
Reflective Sheets: Reflective sheets are the same as that prismatic sheets and their benefits include, easy-installation, durability, and weather-resistant.
LED signages: LED signages may seem to be a costlier form of advertising in No Parking Board Advertisements but it never fails to reach the targeted outcomes because they can be visible for all 24 hours a day.
10Why No Parking Advertising services are very preferred amongst businesses in Pune?
No Parking Advertising in Pune is one of the most preferable types of Advertising because it has various unique selling points such as Better visibility, Easy Installation, Brand Recognition, Longevity, Water-Proof & Light-weighted material, etc.
Better visibility: No Parking Boards are signboards installed in front of the bungalow gates, colony or society gates, and poles, offices, etc. at our eye level which means we can't skip from viewing the advertisement since it is visually unavoidable, unlike other traditional and digital advertising options. It results in you higher engagement with your brand.
Easy Installation: No Parking Boards are very easy to install. All you just need is a thin wire or a sticky material that can stick on a gate easily.
Brand Recognition: No Parking board advertising generates curiosity in the minds of on-lookers, and your brand stays in their mind at conscious as well as subconscious levels.
Longevity: Irrespective of the weather conditions, the advertisements remain stable and good. The average lifespan of No Parking Board ads is 6 months. It can survive for a longer period unless someone removes it manually.
Water-Proof & Light-Weighted Material: The material used in the making of No Parking Boards is waterproof which makes No Parking Board weatherproof and also the material is light-weighted which makes No Parking Boards one of the most convenient ways of advertising.